Josephine Collingwood Photographer, in conversation about her book 'Dartmoor Tors Compendium' an amazingly beautiful study of the landscape
Online gallery
PHOTOGRAPHY & CULTURE
DARTMOOR NATIONAL PARK
70th Anniversary 1951 -2021
Celebrating the creation of Dartmoor National Park
October 2021
JOSEPHINE COLLINGWOOD
NICKY THOMPSON
HARRY FRICKER
Studio presents the work of three photographers whose practice is centred on Dartmoor
The online exhibition is accompanied with a series of livestream events, in conversation with the photographers / artists discussing their photographic practice and the wider context to their work.
In Conversation are inclusive livestream events where audiences are able to participate through real time chat with the photographer / artist. Questions and comments are woven into the conversation.
In Conversation is streamed over YouTube Live and Facebook Live.
We look forward to welcoming you into a participatory and inclusive forum.
Book your free tickets now!
Saturday 23 October 2021 8pm – 20:00 GMT UK
JOSEPHINE COLLINGWOOD
Photographer
In conversation about her photographic practice in Dartmoor, Devon UK
Book your free ticket now!
DARTMOOR DISPOSITION Landscape Photography
The landscape of Dartmoor is instantly recognisable and yet so varied.
As a photographer, I started to photograph the Moor in 2014. I became captivated by the nuances and characters of the different tors and soon found myself determined to photograph them all, as well as the incredible wealth of archeological wonders, mining heritage and history that surrounds them. This culminated in my book, the Dartmoor Tors Compendium, which details 154 tors on Dartmoor.
The photographs in this exhibition are taken from the Dartmoor Tors Compendium.
In terms of photography, my natural inclination is to monochrome photography. Dartmoor can be hard, rocky, moody and dangerous: its texture, contrast and rugged beauty is best captured in black and white I feel. My colour images are deliberate: when colour gives meaning. You'll rarely see me waiting for the sunset to make photographs; I love Dartmoor all day.
The exhibition includes photographs from Collingwood's book Dartmoor Tors Compendium. An in depth study of Dartmoor's quintessential geological feature, the gramite tors. All 155 tors are beautifully photographed in stunning black and white, with rich in details and textures. The body of work constitutes the most comprehensive guide of Dartmoor, and a historical landmark given its breath depth and easthetic passion for the landscape. HF
Great Links Tor, Dartmoor Photo © Josephine Collingwood
Sheepstor, Dartmoor Photo © Josephine Collingwood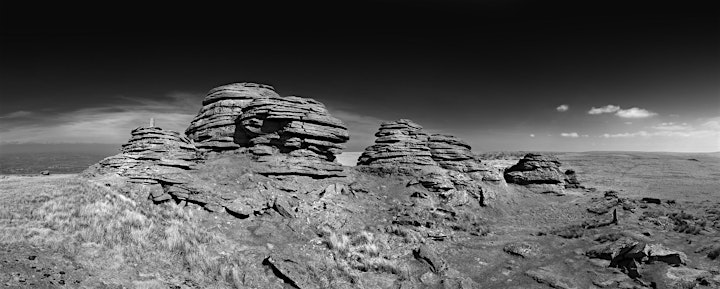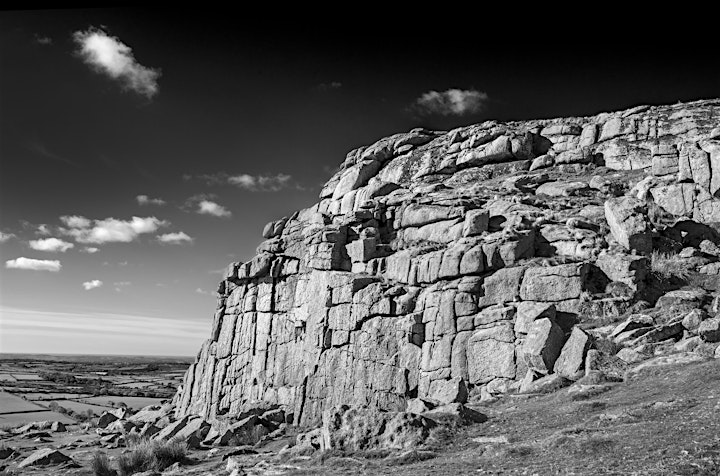 About Josephine Collingwood
Dartmoor is bleak but beautiful; accessible yet still wild. It is a living, working museum of life, geology, biodiversity and history that draws us in. I developed a profound love of Dartmoor as a child when visiting relatives nearby. When I moved here in 1983, it became home ground and I developed a visceral need to photograph my local wilderness and the outdoors in general.
Although I followed a career path including geophysics, remote sensing and technical editing, it was only in 1994 that I decided that I was only going to be truly fulfilled if I became a photographer. I saved and went back to college, emerging 3 years later qualified and self-employed as an architectural and interior photographer. Buildings pay the bills, landscapes feed the soul.
My love and connection with Dartmoor has greatly increased since I joined Dartmoor Search & Rescue Tavistock, the local Mountain Rescue team. Living life to the full outdoors and helping people in need is a potent mix!
For Dartmoor Books and Graphic Art see: www.tavicinitypublishing.co.uk
Follow Josephine Collingwood on Instagram @tavicinity
Josephine Collingwood DSRT Photo © Josephine Collingwood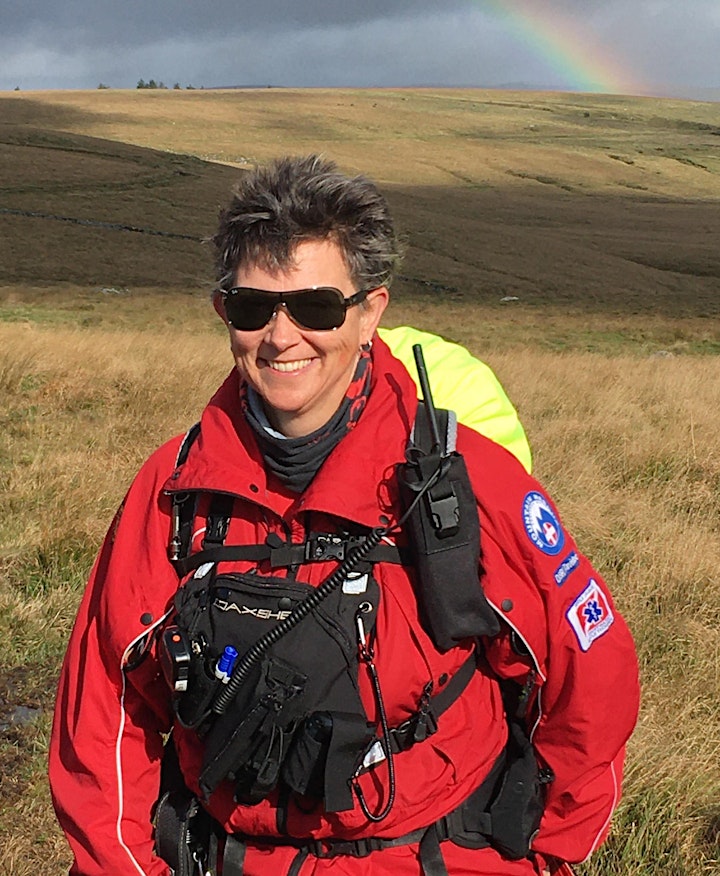 Thank you for booking your ticket!
You will receive a link 48 hours before the event.
We will send you a couple of reminders;
3 hours before we commence & 30 minutes prior to start.
Do not to hesitate to contact us if you have any queries.
Online gallery
PHOTOGRAPHY & CULTURE