Nicky Thompson produces her stunning portraits using a wet plate collodion or ambrotype, a historical photographic process from the 1850's.
Online gallery
PHOTOGRAPHY & CULTURE
DARTMOOR NATIONAL PARK
70th Anniversary 1951 -2021
Celebrating the creation of Dartmoor National Park
October 2021
JOSEPHINE COLLINGWOOD
NICKY THOMPSON
HARRY FRICKER
Studio presents the work of three photographers whose practice is centred on Dartmoor
The online exhibition is accompanied with a series of livestream events, in conversation with the photographers / artists discussing their photographic practice and the wider context to their work.
In Conversation are inclusive livestream events where audiences are able to participate through real time chat with the photographer / artist. Questions and comments are woven into the conversation.
In Conversation is streamed over YouTube Live and Facebook Live.
We look forward to welcoming you into a participatory and inclusive forum.
Book your free tickets now!
Saturday 6 November 2021 8pm – 20:00 GMT UK
NICKY THOMPSON
Artist Photographer
In conversation about her photographic practice in Dartmoor, Devon UK
Book your free ticket now!
The exhibition includes two of Thompson's most recent photographic projects, A Portrait of Moretonhampstead and Wild Swimmers.
A Portrait of Moretonhampstead is centred around individuals who live or work in the village of Moretonhampstead, in Dartmoor. Focusing on the old families, farmers, shop owners and individuals, thus memorialising the community with over one hundred wet plate collodion portraits, a 'snapshot' of this rural community in 2015.
One of her group portrait of Wild Swimmers was selected for the Taylor Wessing Portrait Prize 2020. See "As this project has progressed and with the emergence of COVID-19, I have begun to realise the importance of swimming in the rivers, being in nature and the link with physical and mental health – and so have the people I have started photographing."
Thompson's wet collodion photographs manifest the ambiguous quality of juxtaposing past and present. The chronology appears to be at odds, creating a tension that disrupts the notion of instantaneous consumption, often associated with photographic narratives. The viewer's attention is hailed by this ambiguity, requiring a deeper look into the photograph, in order to interpret its meaning. This is a formula that goes against the grain of 'instant visual communication', the currency of advertisers and marketeers, and herein lies its strength and innovative playful twist. HF
Wild Swimmers Taylor Wessing Portrait Prize 2020
Photo © Nicky Thompson
Nicky Thompson at work in East Dart River, Dartmoor
Photo © Nicky Thompson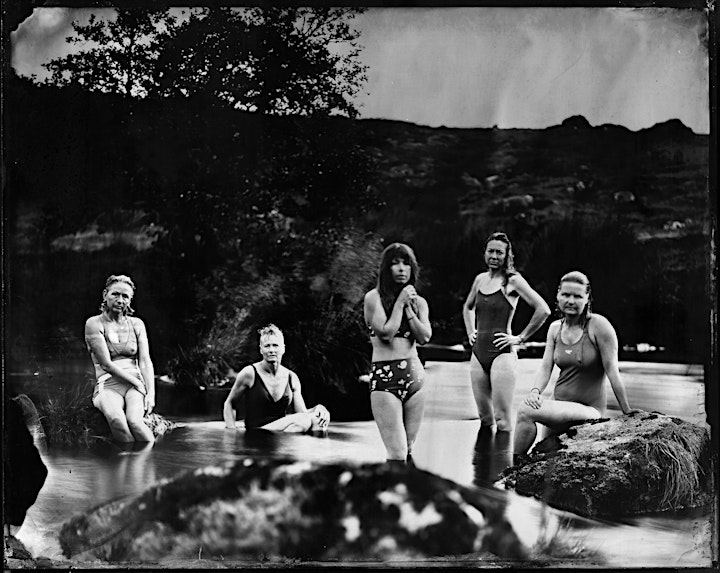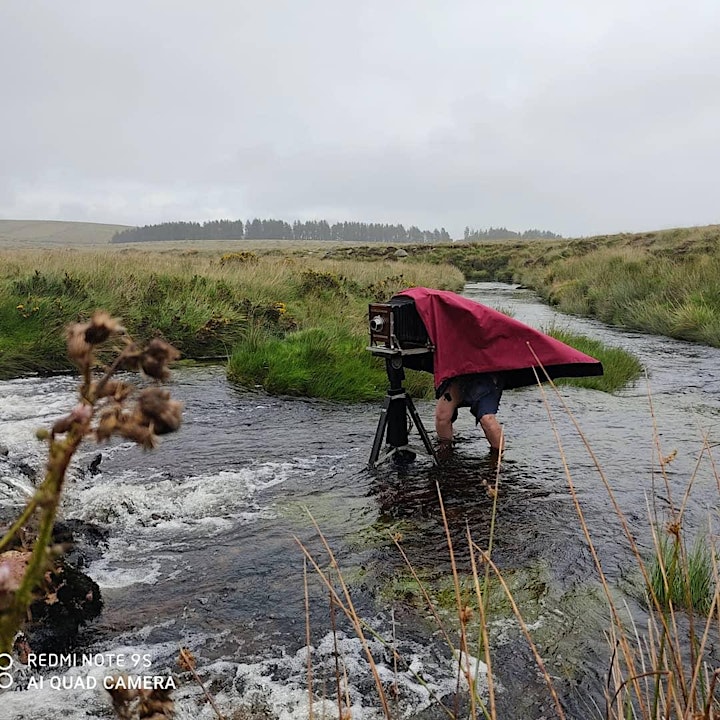 About Nicky Thompson
Nicky Thompson is an artist / educator with an MA in photography and she lives and works in Moretonhampstead, Devon. The main themes in her work are community, growth and nature. She specialises in alternative photography techniques and her main practice is Wet Plate Collodion (Ambrotypes), a Victorian process using a traditional large format camera.
She has undertaken residencies at Dartmoor Summer School – photographing wild swimmers using Wet Plate; Greenhill Arts – Photographing 166 portraits of people living or working in the community, again on Wet Collodion and Thelma Hulbert Gallery – burying negatives of the gallery in the grounds. Her photographs have also been shown in solo and group exhibitions around the uk.
Her work was selected for the Taylor Wessing Portrait Prize 2021 at the National Portrait Gallery, London. The wild swimming project is ongoing, exploring the themes of improving mental and physical health through wild water swimming.
Nicky Thompson
Photo © Nicky Thompson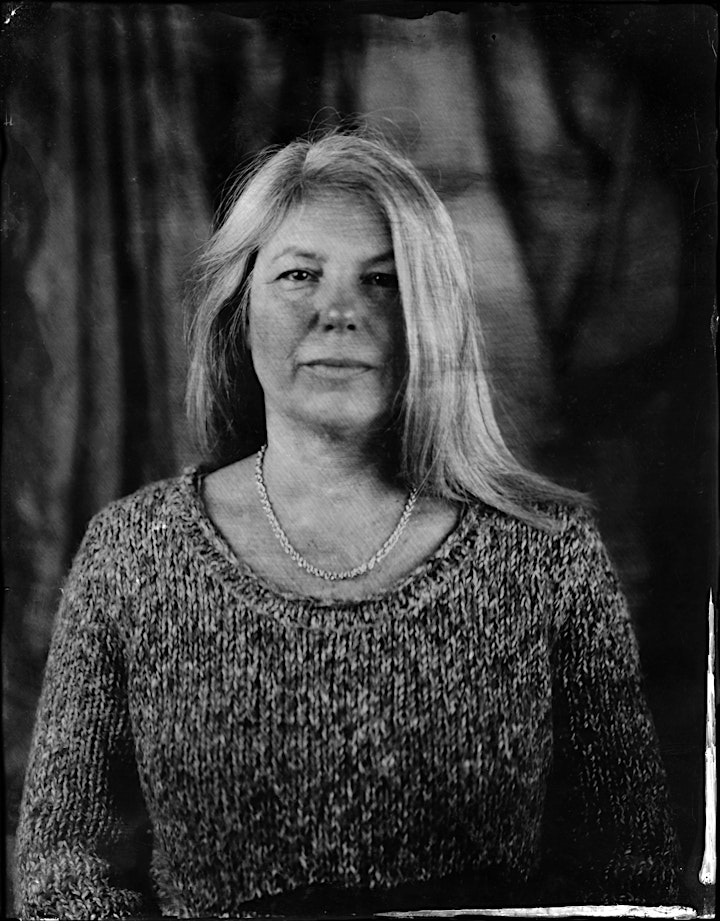 Thank you for booking your ticket!
You will receive a link 48 hours before the event.
We will send you a couple of reminders;
3 hours before we commence & 30 minutes prior to start.
Do not to hesitate to contact us if you have any queries.
Online gallery
PHOTOGRAPHY & CULTURE